Pork rolls (Mediterranean recipe)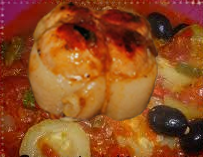 Ingredients:
8 pork rolls from "Epirus pork - Vergos", 1 green bell pepper, 1 red bell pepper, 2 onions, 1 can of peeled tomatoes or 3 freshly grated tomatoes, 2 cloves of garlic, 15 black olives, olive oil, oregano, salt, pepper.
Directions:
Add the pork rolls to a pot with olive oil (they already have salt and spices, so you don't have to add anything else) and fry all sides untli they get a nice color.

Remove the meat from the pot and add the peeled and sliced onions as well as the chopped garlic and fry them.
Cut the peppers into small pieces, add them and the tomatoes to the pot and cook for 5 minutes.
Add the pork rolls and the olives (salt and pepper optional) and cook for an additional 50 minutes.
Suggestion:
Best served with pasta or rice.
Bon appetite!!