Soutzoukakia with minced pork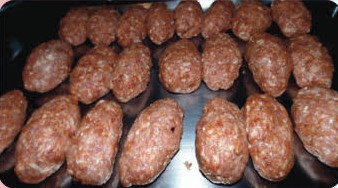 Ingredients:
1 kilo of minced pork, 2 eggs, half a teaspoon of cumin
1 onion, 1 teaspoon paprika, boukovo
salt, fresh pepper, 100 gr. toast, olive oil
For the sauce:
1 onion, 4 cloves garlic, half a kilo of concentrated tomato juice
2 bay leaves, oregano.


Directions:
Mix the ingredients together, but add toast last and five the shape you want. In a large pan, heat the olive oil over high heat and fry on both sides for about 5 minutes. Add the sliced ​​onion and the garlic and let them wither. Quench with tomato juice. Add the salt and pepper, the bay leaf and the oregano. Cook for a few minutes or until excess liquid is saved.
                                                                                                                                                          Bon appetite!!